Party Ideas During Coronavirus
These are scary times and most of the world is self isolating during the coronavirus outbreak, but life is still carrying on at home during lockdown.  People close to you are still having birthdays and it is important for them to feel special on their big day. My Dream Party Shop has put together 22 ideas for parties that can be held at home during lockdown. We also have lots of lovely decorations, backdrops, balloons and balloon kits available in our Virtual Celebrations collection.
Party Ideas for Young Children
 First Birthday Cake Smash
You may not be able to have a large first birthday celebration but you have plenty of time to set up a stunning first birthday cake smash and hold a little celebration with your immediate family. Create an impressive backdrop, give your little one a big cake and encourage them to get messy. Snap away and create amazing memories. You can create your own backdrop using one of our balloon garland kits or balloon hoop kits. Use giant colourful balloons filled with helium or smaller latex bunches or giant number one balloons. You can also use colourful foil balloons like flamingos, elephants, unicorns or rainbows. Check out our different first birthday collections or our Cake Smash collection for further inspiration, garlands and colourful decorations.
Teddy Bears Picnic
Set up a cute Teddy Bears picnic in the back garden. Simply set up a circle of teddy bears on a picnic rug and break out a picnic.  Have a game of pass the parcel or hide and seek with the bears. 
Easter Party
Hold a traditional Easter egg hunt and get the adults involved as well.  Get everyone to dress up as bunnies and hop around the garden while searching for the eggs. Have bunny themed games, hopping races, bunny hoopla.  Get crafty by making an Easter tree and then decorating it. Make an Easter wreath to decorate the front door, decorate some eggs or create an easter bonnet. Another fun idea is to create mini bunny balloons on sticks. Check out our fun Easter Party collection for more ideas and decorations.
Family Sleepover
Hold a fun Family sleepover in the lounge by creating a cosy den.  Decorate it with fairy lights, balloons and other pretty decorations.  Get lots of cushions, duvets and blankets to make it really cosy.  Get everyone in their PJ's.  Have popcorn, music and pillow fights.  Have lots of balloons and decorations and fun games.  Get some fun photo props, take lots of photos and make lots of memories. Check out our Sleepover Party collection for further ideas.
Pirate Party
Get everyone to dress up as pirates. Create a treasure hunt around the garden, get dad to walk the plank.  Play the shark game, dig for buried treasure in the sandpit or lucky dip box, create a pirate photo backdrop with our pirate decorations.
Beach Party 
Hold a beach party.  Get the sandpit out and a little pool.  Put up a beach style umbrella.  Have a water fight.  Build a sand castle or create a sand sculpture. Have fish and chips out of cones and eat ice cream.  A true day out at the sea side! 
Fairy party
Every little girls loves a fairy party. Get your little one dressed up as a fairy, get a little fairy door, create a fairy treasure hunt around the garden, create fairy steps and dancing games, create a miniature garden for a fairy to live in.  Check out our Truly Fairy collection for further ideas.
Space Party
Perfect for little boys or girls.  Build a rocket den, get the whole family dressed up as spacemen or astronauts. Make space rocket mobiles or build rockets out of lego and play lots of space themed games like a solar system scavenger hunt or a saturn ring toss. Check out our Space Party collection for further ideas. 
Ideas for Older Children
Karaoke Party 
Hold a virtual karaoke party over skype, Google Hangout or House Party apps so that everyone can be there and share the fun, even if they can't be there.
Netflix Watch Party
A Netflix Party lets friends in different places watch movies together and share their reactions through a chat room. All you need is Google Chrome browser, an extension and a Netflix account. Go to Netflix Party to install the extension. You can also do the same on Facebook.
Pamper Party
Have a really lovely time with your daughter trying out all the products that you never have time to do like face masks.  Curl each others hair, paint toenails and do make up. Take lots of lovely pictures. Perfect mother and daughter bonding time.  You can get Dad involved as well if he is up for it!
Model Party
Create a photo backdrop and a catwalk.  Spend time in make up or sewing the outfits.  Get the camera out and take lots of photos and movies.
Army Party
Get everyone dressed up in army/camouflage outfits.  Put on some war paint and then create an assault course around the garden and then play a game of tug of war. You can even turn it into a paintball party or use cap guns or giant water pistols. We have lots of party decorations and supplies for an Army party in our Camouflage Party range.
Mini Family Olympics
A twist on the army party is to turn it into a mini family olympics. Have fun childlike races like a traditional sack race, a hoola hooping competition or skipping race.  Who can jump the furthest and the highest?
Festival Party
Create a mini festival campsite outside. Everyone wears their best festival outfits and has their faces painted and little sparkly gems added.  Lots of plaits and braids and temporary tattoos.  Decorate the tent and garden with lots of fairy lights and create a cosy seating area around a campfire. Hang bells and streamers from the trees. Sit and tell stories, play music, sing and make smores. Get some glowsticks and chinese paper lanterns for after dark.
Movie Party
Get a movie projector and screen or turn your mobile into a projector and project onto a sheet.  Hang festoon lights and make a cosy seating area using beanbags or large cushions.  Have hot dogs and popcorn followed by ice cream served in tubs. Late at night do some stargazing with a telescope or just lie back and look at the stars. Check out our Movie Night Party collection with lots of lovely balloon props.
Ice Cream Party
Lots of pretty pastel retro colours.  Hang ice cream honeycomb decorations from the trees or as bunting.  Use lots of pretty dessert and ice cream themed balloons.  Set up an ice cream bar and serve ice cream with lots of different toppings, alongside donuts and other sweet treats.  See lots of ideas in our Ice Cream Party collection.
Ideas for Adults

Afternoon Tea
Perfect for an older member of the family or someone who just loves cakes!  Get baking and have a lovely selection of cakes, pastries, mini sandwiches, tea and champagne or prosecco. You can go wild and make cocktails and serve them in cups and saucers.  If you wanted to theme it you could put an Alice in Wonderland twist on it.  See some fun ideas in our Afternoon Tea Party collection.
Virtual Dinner Party
Get together with your friends and hold a dinner party online. Get everyone to eat the same dish like curry or chinese.  Sit at the table and use the internet to connect virtually.  Use an app like zoom or house party so that you can have multiple participants.  After dinner have a games night, play bingo, charades or pictionary or do some karaoke.
Garden Games Party
Get out in the sunshine and play games like petanque, croquet, volleyball and giant jenga.  Lots of fun for all the family.
Moroccan Themed Outdoor Feast
Serve slow roasted lamb with a pomegranate molasses glaze alongside cous cous and roasted vegetables.  Set up a moroccan style long and low table outside and sit on cushions.  Have belly dancing sessions and moroccan style music. 
Other ways to make someone's day special
Remember you don't need a large crowd to throw a party. There are lots of other ways to make someone's day special.  Get neighbours to sing happy birthday from their houses or get friends and neighbours to come and say happy birthday from a save distance (i.e. end of the garden) as part of their daily exercise or get everyone to join a zoom call to sign together and create an online party.  You can also get friends and family to pre-record videos and then play them on the morning of someone's birthday.
We have lots of lovely backdrop decorations, word balloons, balloon kits and other items to make someone's day in our Virtual Celebrations collection.
If you don't want to theme a party then check out our stunning range of party decorations and cool balloons and balloon garland kits at mydreampartyshop.com and just create a stunning decoration or balloon bouquet for your loved one.
Remember everyone stay safe, stay at home, protect our NHS and others.
Leave a comment
Comments will be approved before showing up.
---
Also in Blog Posts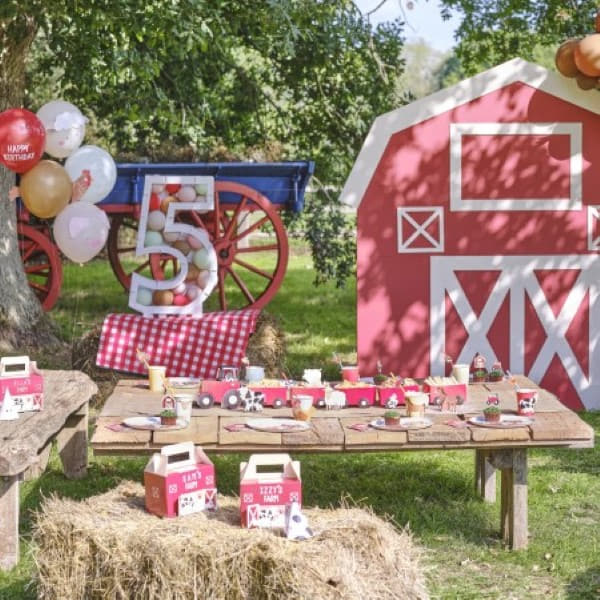 Our blog post will show you how to throw a fun farm themed party that will delight any little boy or girl. We have lots of ideas for easy farm themed party decorations and party food. The Farmyard Party Theme is extremely popular as it is an easy choice that works well for both boys and girls.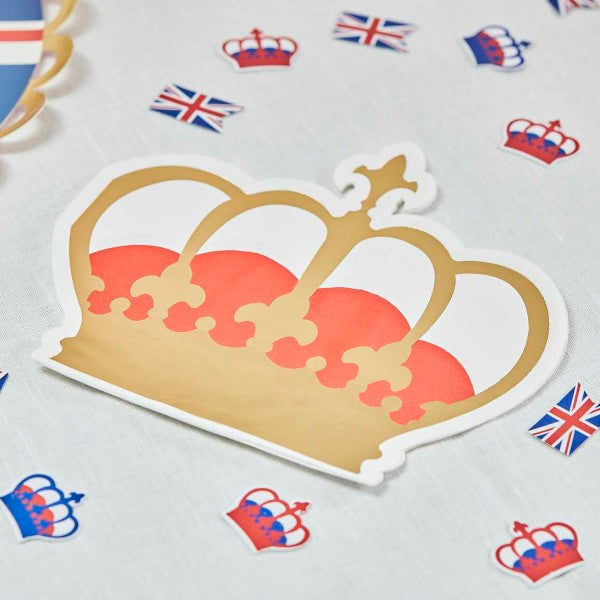 This year King Charles III will be crowned at his Coronation and just like the Jubilee we will be celebrating across the nation. Our Coronation Party guide has lots of fabulous ideas to help you organise the best street or garden party ever to celebrate the Coronation.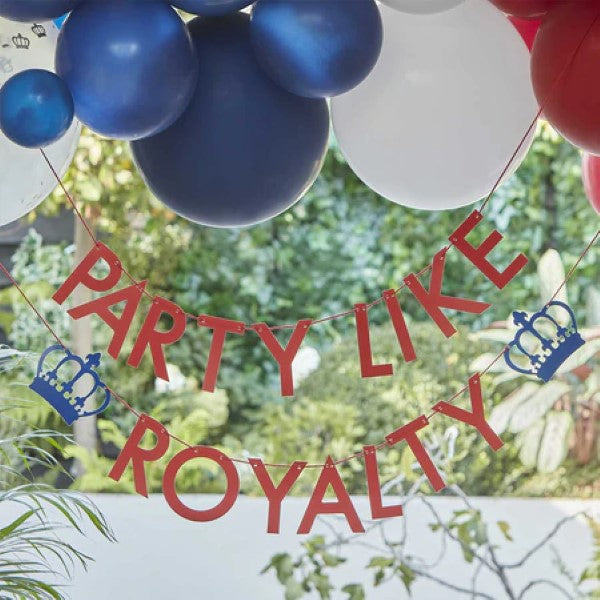 This year the Queen celebrates becoming the first British Monarch to reign for 70 years and everyone will be celebrating across the nation.  Our guide will show you how to organise the party ever whether it is in the street or at home in the garden.