How to Hold a Street or Garden Party for the Platinum Jubilee
This year the Queen celebrates becoming the first British Monarch to reign for 70 years and everyone will be celebrating across the nation.  Our guide will show you how to organise the party ever whether it is in the street or at home in the garden.
Planning
If you are planning a street party then the first thing to do is make sure that you are complying with any council regulations.  Private parties in your street where all the neighbours are invited are the simpliest to organise.  You can find more information on this page.  You need to allow plenty of time to get the go ahead so make sure you start as soon as possible.
It is always worth getting some public liability insurance to cover off any accidents or incidents which could occur.
Make life easier by putting together an organising committee and work out how you are going to raise the money required. Are you going to charge per household or per attendee?  What happens if it rains? Have plenty of marquees on stand by which can also act as shade if it is too hot and they give you something to tie bunting and other decorations as well.
For your seating ask everyone to bring their own outdoor tables and chairs and place them all next to each other as one long table or as close as possible.
Entertainment
Think street performers like jugglers or maybe something traditional like a puppet show or a coconut shy. If you think back to the parties from the 70's it was all about a fancy dress parade so do encourage everyone to dress up. At the very least provide everyone with a party hat or crown.
Why not provide lots of chalk and ask all the children to draw a picture on the pavement or get a really long piece of paper and get them to create a mural to commemorate the day.
Another idea is to provide simple fun items for everyone to play with and to encourage interaction between your neighbours. Items like skipping ropes or hula hoops are great fun and everyone can have a go. Have bubble machines or get a hoop and large paddling pool filled with a soapy mixture to create giant bubbles.
Maybe organise a series of competitions with fun games like limbo, hula hoops, juggling, three legged race, apple bobbing etc.  Think traditional old fashioned fun and have plenty of prizes on standby. You could even hire a company to provide a bouncy castle or set up a petanque game. Another nice idea is to create a treasure hunt around the street with lots of clues.
Then there is music to consider.  Do you get a DJ or just use a spotify playlist? What about speakers so that everyone can hear the music.  Check if you need a licence. 
Food
Think posh and traditional.  Afternoon tea style finger sandwiches on raised platters.  Fillings like cucumber and cream cheese, egg mayonnaise, coronation chicken and smoked salmon are the perfect mixture.  For dessert go for jelly and ice cream, trifle and victoria sponge. Also have lots of other cakes like scones and cream, chocolate eclairs and cup cakes.
Jugs of pimms make the perfect drink but make sure that you have lots of non- alcoholic punch options for the non-drinkers.  These can all be made up in advance.
Dressing the Tables
Go for maximum colour to create impact on the tables.  Use union jack themed tablecovers or go for a mixture of red, white and blue table covers. For the children you can pre-prepare party boxes to make them easier to hand out and can control any dietary issues this way by adding stickers with the children's names on them.
Create more impact by using some height in the middle of the tables.  You can achieve this using cake platters to serve cakes or sandwiches. Take a look at our stunning Red Double Decker Bus Treat Stand this really is a showstopper!
Another way of achieving height is to use blocks of wood or boxes and covering them in union jack patterned paper or plain paper in silver, red, blue or white.  Then use artificial or real flowers in jam jars, covered tins or teapots to create focal points.  
Decorations
The most effective way of decorating is to hang bunting across the street from house to house.  Large flags can also be hung on the front of each house.
Helium balloons look great tied to the back of each chair. For air filled balloons you can tie them in bunches from the corners of marquees or tie them hanging upside down from the neck onto a long piece of curling ribbon like balloon bunting. 
As everyone will want to create memories of the day so it is always worth making the effort to create an impressive backdrop area for photographs. Your backdrop starting point can simply be a blank wall or a hedge. Hang some string across it at just above head height and then drape our red, white and blue crepe streamers over it in red, white and blue to create the backdrop. Use a bit of cellotape to hold each streamer in place at the top to prevent them slipping off and then add a home made sign for the Royal Jubilee.  This could simply be made out of gold card.  Alternatively use one our "Party Like Royalty Garlands".  You can then hang a balloon garland over the top of the string area or use bunches of balloons tied together. 
Check out all our Royal Jubilee Decorations, Balloons and Tableware in our Cool Britannia Range here.
Leave a comment
Comments will be approved before showing up.
---
Also in Blog Posts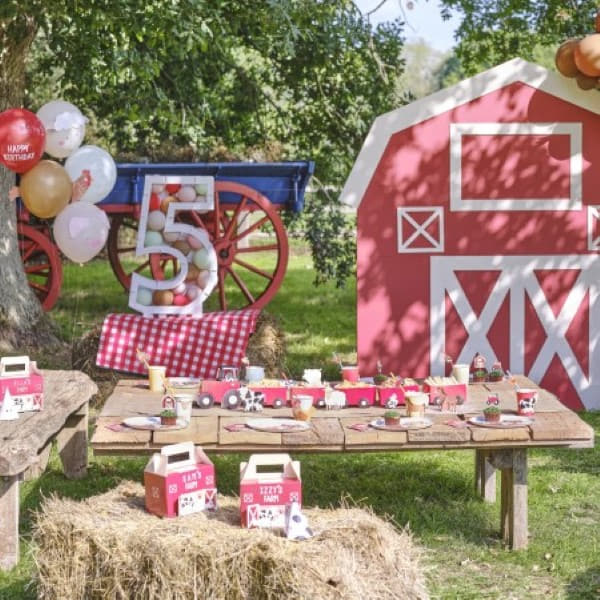 Our blog post will show you how to throw a fun farm themed party that will delight any little boy or girl. We have lots of ideas for easy farm themed party decorations and party food. The Farmyard Party Theme is extremely popular as it is an easy choice that works well for both boys and girls.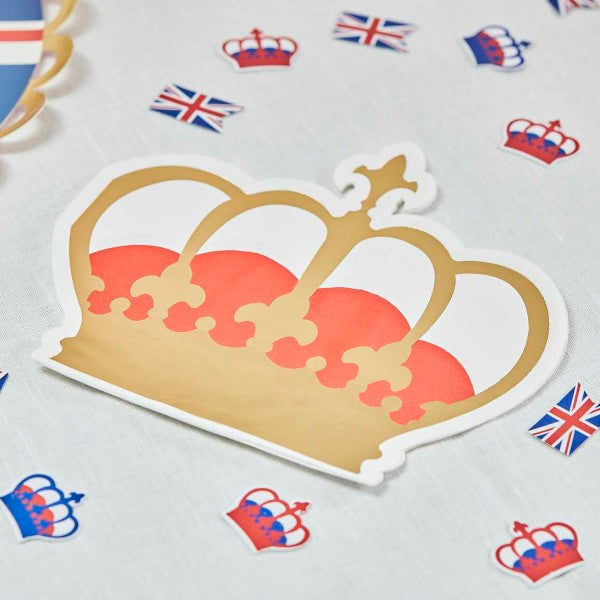 This year King Charles III will be crowned at his Coronation and just like the Jubilee we will be celebrating across the nation. Our Coronation Party guide has lots of fabulous ideas to help you organise the best street or garden party ever to celebrate the Coronation.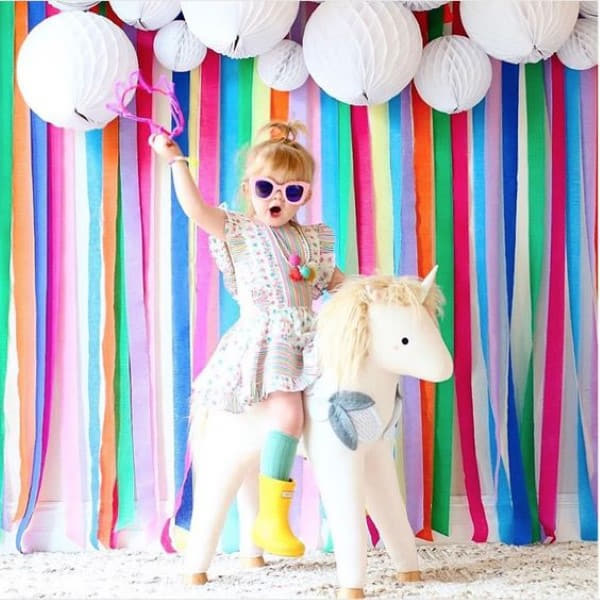 Crepe paper streamers are one of the cheapest decorations and they really go a long way if you know what to do with them. My Dream Party Shop has rounded up the best and most exciting examples of ways can you use crepe paper streamers to decorate your party from across the internet.