How to Create a Cute Balloon Bunting Advent Calendar
Our cute Balloon Bunting Advent Calendar is a fun and easy way to create an interaction advent calendar for your children.  It only takes about an hour to assemble (plus some time to inflate the balloons).
You will need the following:
Some strong fishing line (the length will depend on where you want to display it and whether you want one length or two shorter lengths).  I used two lengths of approximately 150 inches long.
A large tapestry or crochet needle or similar (needs to be large enough to fit the fishing line through the eye of the needle).
24 round balloons in a mixture of colours (or all the same colour if you prefer).  I have used 11 inch qualatex balloons, but only blown them up to 5 inches big to keep them nice and round and bauble shaped.
Some small chocolate balls or other chocolates (nothing too big or heavy)
48 Christmas baubles to decorate.
A couple of sheets of silver (or gold if you prefer) sparkly numbers.  You will need enough to create 1 - 24.  At least 1.5mm in height.
A balloon hand or electric pump.
A clean cotton or plastic sheet to keep the balloons clean and dust free once they been blown up.
Firstly take a balloon and a chocolate and pop the chocolate inside the balloon.  Blow the balloon up to around 5 inches in width (use a tape measure to keep the balloons consistent in size).  Repeat until you have blown up all 24 balloons.  Place the balloons on a clean surface or sheet to prevent the balloons picking up  dust.
Decide where you are going to hang the Advent Balloon Bunting.  Then work out how far apart you want to hang each balloon and times that by 24 balloons.  Remember to add extra for tying and hanging at each end.  Cut the required length of fishing line.
Take the fishing line and thread it through the eye of the needle.  Take a bauble and thread it through towards the end of the fishing line.  Double thread around the loop at the top of the bauble to hold it in place.
Take your first balloon and hold it upside down.  Thread the needle through the loose area at the neck of balloon between where the balloon has been tied and the circular lip entrance (i.e. not where the balloon is inflated).  Do a loop through it to ensure that the balloon is held in place and then add another bauble and again loop around to secure it in place.  
Repeat until you have added all 24 balloons.  You might want to do all 24 balloons in one long bunting chain or prefer the break it up into two bunting chains of 12 balloons.  It will really depend on where you wish to hang it.
Finally add your number stickers to the front of each balloon in the correct order.
Da dah there you have your cute little Advent Calendar Balloon Bunting.
Leave a comment
Comments will be approved before showing up.
---
Also in Blog Posts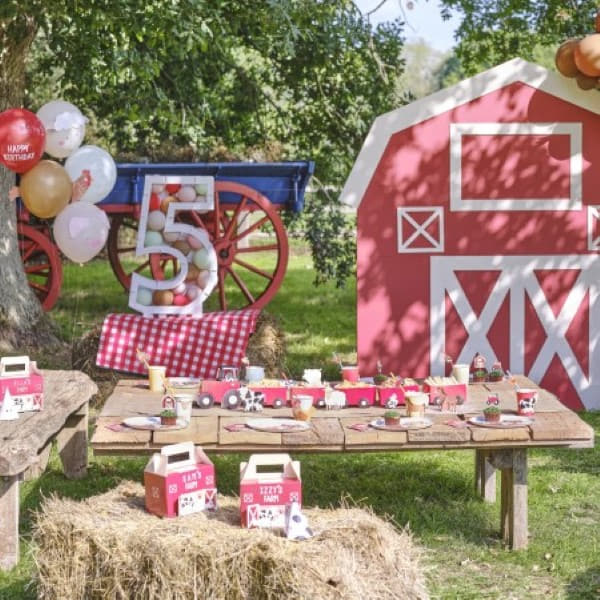 Our blog post will show you how to throw a fun farm themed party that will delight any little boy or girl. We have lots of ideas for easy farm themed party decorations and party food. The Farmyard Party Theme is extremely popular as it is an easy choice that works well for both boys and girls.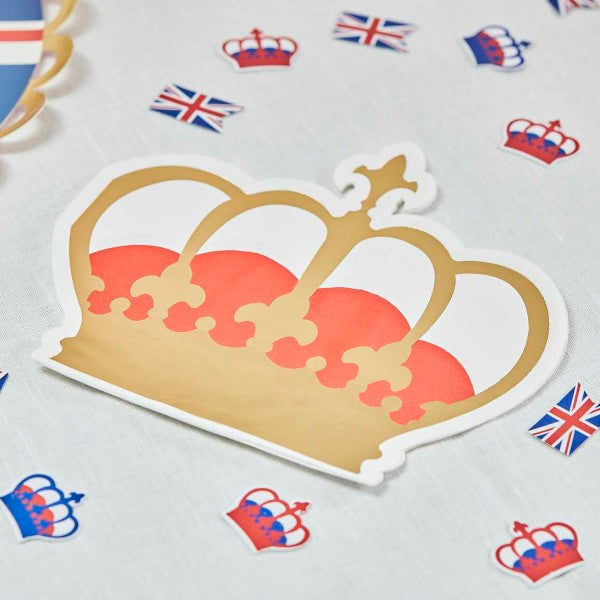 This year King Charles III will be crowned at his Coronation and just like the Jubilee we will be celebrating across the nation. Our Coronation Party guide has lots of fabulous ideas to help you organise the best street or garden party ever to celebrate the Coronation.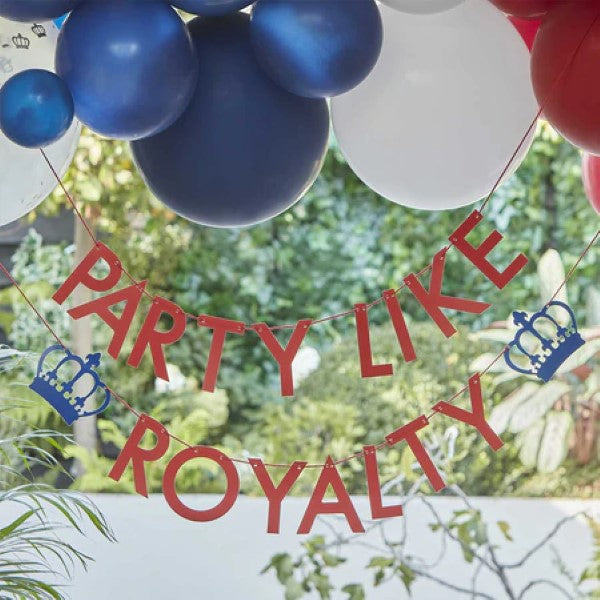 This year the Queen celebrates becoming the first British Monarch to reign for 70 years and everyone will be celebrating across the nation.  Our guide will show you how to organise the party ever whether it is in the street or at home in the garden.